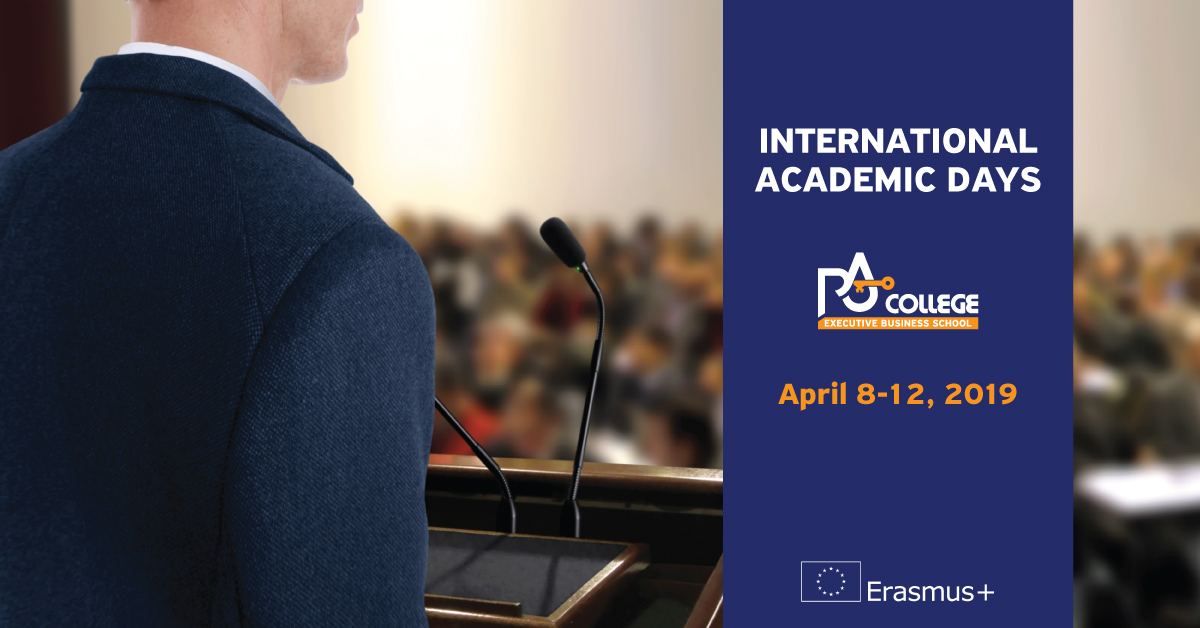 INTERNATIONAL ACADEMIC DAYS
P.A. COLLEGE, LARNACA, CYPRUS
April 8-12, 2019

PROGRAMME OVERVIEW
MONDAY,
APRIL 8




10:00

Registration

10:45

Welcoming participants and building tour

11:00

Briefing on the event, self-introductions and networking
TUESDAY,
APRIL 9




10:00-10:05

Welcoming - Director

10:05-10:10

Welcoming – Heads of Departments

10:10-10:30

Presentation 1: 'Embedding Excel and Accounting Software into the Core of

Accounting Courses' – Paul Caulfield, Birmingham City University, UK

10:30-10:35

Questions & Answers

10:35-10:55

Presentation 2: 'Managing Business and Social Capital Exchanges in Digital

Crowdfunding Platforms' – Endrit Kromidha, University of Birmingham, UK

10:55-11:00

Questions & Answers

11:00-11:20

Presentation 3: 'Risk Management and Insurance' – Ilona Kwiecien, Wroclaw
University of Economics, Poland

11:20-11:25

Questions and Answers

11:25-11:35

BREAK
11:35-11:55

Presentation 4: 'Analysis and Valuation of Debt Financial Instruments' – Agnieszka
Wojtasiak-Terech, Wroclaw University of Economics, Poland

11:55-12:00

Questions and Answers

12:00-12:20

Presentation 5: 'Teaching Language Aspects of Communication Skills and Cultural

Implications in International Negotiations' – Elisabetta Zazzeroni, Universita degli
Studi di Urbino Carlo Bo, Italy

12:20-12:25

Questions and Answers

12:25-12:30

Closing Remarks
WEDNESDAY,
APRIL 10
Free day - Organised sightseeing
THURSDAY,
APRIL 11




10:00-10:05

Opening Remarks

10:05-10:25

Presentation 1: 'Impact of Small Landholdings in Poverty amongst Small and

Marginal Farmers in India' – Navjot Sandhu, Birmingham City University, UK

10:25-10:30

Questions & Answers

10:30-10:50

Presentation 2: 'Embedding Employer Engagement into the Core of Accounting

Courses' – Steve Harris, Birmingham City University, UK

10:50-10:55

Questions & Answers

10:55-11:05

BREAK

11:05-11:25

Presentation 3: 'Social Aspects of Urban Agriculture' – Madara Dobele, Latvia
University of Life Sciences and Technologies, Latvia

11:25-11:30

Questions and Answers

11:30-11:35

Welcoming from the Head of Research and Development Department

11:35- 13:30

Open Discussion on Current and Future Research Activity and Collaboration
FRIDAY,
APRIL 12




10:00-11:00

Closing Remarks


PRESENTATION ABSTRACTS

TUESDAY, APRIL 9

Presentation 1: 'Embedding Excel and Accounting Software into the Core of
Accounting Courses' – Paul Caulfield, Birmingham City University, UK
It's imperative that for any course taught in accounting that leads to a formal
accounting accredited qualification have a material amount of Excel and a
recognised accounting package training embedded within it.
Students who graduate with traditional university accounting degrees may be
unsuited to accounting employment as they do not have the immediate practical skills
to undertake the work expected from graduates by employers, with Excel and
accounting package skills proving an essential factor in initial accounting
employment.
At Birmingham City University we have stand-alone external Microsoft Excel and
Sage Accounting qualifications embedded within our Accounting degree programmes
as a compulsory study. This has led to our students gaining these recognised
accredited qualifications and hence improving their chances of gaining relevant
graduate work or work placement positions.
This presentation will briefly explain and demonstrate these qualifications and argue
on the necessity of embedding them within any Accounting programme, but especially
university accounting degree programmes.

Presentation 2: 'Managing Business and Social Capital Exchanges in Digital
Crowdfunding Platforms' – Endrit Kromidha, University of Birmingham, UK

Digital platforms have been the power engine behind many talented freelancers and
start-up ideas, providing access to tangible and intangible resources beyond
geographic boundaries, but how can they help entrepreneurs grow both their business
and social capital? This presentation will address this question by giving an overview
of donation, lending, equity and reward crowdfunding platforms. Crowdfunding
allows many to put their money together for supporting a cause, a project or a
venture by connecting directly with the fundraiser. Although digital crowdfunding
might not be for every venture and project, it has gained an important place among
traditional forms of financing. The exchange mechanisms between social and business
capital in crowdfunding campaigns can be understood by looking at the motivation to
fundraise and give, success factors and challenges. Reflecting on its present and
future can assist prospective entrepreneurs with their growth strategies.

Presentation 3: 'Risk Management and Insurance' – Ilona Kwiecien, Wroclaw
University of Economics, Poland

The presentation illustrates the place of insurance in the risk management process -
in a historical and contemporary perspective. It appoints international standards of
risk management, risk rankings in recent years, as well as current problems in the
creation of insurance programs, resulting from EU regulations and market trends.

Presentation 4: 'Analysis and Valuation of Debt Financial Instruments' –
Agnieszka Wojtasiak-Terech, Wroclaw University of Economics, Poland

Spot market financial instruments can be divided into debt instruments and equity
instruments. Debt instrument is an obligation that enables the issuing party to raise
funds by promising to repay a lender in accordance with terms of a contract. In the
presentation author will analyse debt financial instruments according to their
typology on money market instruments (deposits, certificates of deposit, treasury bills,
commercial papers, short term loans) and bonds. First, main characteristics and
methods of evaluation of money market instruments will be presented. Next example
of auction for T-bills in Poland will be shown. In terms of bonds author will
concentrate on bonds typology (according to issuer, type of interest, additional
rights), main characteristics, fixed –rate bonds evaluation and presentation of
organized market for bonds in Poland (Catalyst Market).


Presentation 5: 'Teaching Language Aspects of Communication Skills
And Cultural Implications in International Negotiations' – Elisabetta Zazzeroni,
Universita degli Studi di Urbino Carlo Bo', Italy

My presentation is about the application of language teaching techniques in teaching
English for International Negotiations at an intersection between theory and practice.
It is an approach to teaching International communication that takes in consideration
that different cultures have different ways of approaching negotiations. Being a
negotiator in international negotiations requires an understanding of how other
cultures function, as well as an awareness that each culture can also display a wealth
of internal varieties. The approach to teaching International Negotiations is meant to
stimulate students to develop their understanding of this concept together with their
vocabulary, reading, writing, listening and speaking skills. The materials will be
presented through audiovisuals, readings and recordings. The target students will be
exposed to activities that will elicit and improve their knowledge.

THURSDAY, APRIL 11

Presentation 1: 'Impact of Small Landholdings in Poverty amongst Small and
Marginal Farmers in India' – Navjot Sandhu, Birmingham City University, UK

This paper argues that one third of the world's poor population lives in rural India
and is dependent upon agriculture for their livelihood. However it is imperative to
examine the unique structural characteristics of farmers (borrowers) and impact of
the various factors upon their specific needs. This paper addresses the core issue:
what is causing small landholders to be poor? A survey method is used; involving indepth,
face-to-face interviews based on a semi-structured questionnaire amongst, the
sample of 185 farmers from the state of Punjab in India. The survey requested
quantitative and qualitative information on the various determinants of poverty such
as level of household income and debt of farmer's especially small and marginal
farmers. The results identify that age, family size, farm/land size, income; number of
earning members and education are major determinants of poverty among small and
marginal farmers in Indian, Punjab. This paper uses land fragmentation theory to
explain deepening level of poverty in emerging economies and consolidation practices
in developed economies. Government policy should focus on improving financing
provisions, marketing, land reforms and to augment small and marginal farmers'
livelihood and income on the other hand.
Key words: Credit, Finance, poverty, agriculture, land fragmentation, Small and
marginal farmers, collateral, Punjab, India
Paper type: Research paper

Presentation 2: 'Embedding Employer Engagement into the Core of Accounting
Courses' – Steve Harris, Birmingham City University, UK

To prepare students for the complexity associated with graduate employment, it is
important to engage with employers in a multitude of ways. My presentation focusses
on an approach I adopted within an accountancy project management module, one
that required students to provide solutions to a problem a small medium enterprise
(SME) was currently faced with.
The SME, a micro-brewery, were not happy with their current manual accounting
system and the service they received from their accountants. They wanted to migrate
to an electronic system that would integrate with their cloud-based point of sales
(POS) software iZettle. As part of the module's assessment, students were required to
scope the employer's needs and produce a solution via a project report and MS
Project plan. Prior to presenting back their proposed resolution to the problem.
This presentation will briefly explain and demonstrate the approach students took and
the solutions they proffered the employer.

Presentation 3: 'Social Aspects of Urban Agriculture' – Madara Dobele, Latvia
University of Life Sciences and Technologies, Latvia

More than 55% of population are living in cities, and the United Nations forecast that
the number of total population will be growing from 7,6 to 9,8 billion people until the
year 2050, increasing the proportion of population living in cities until 68%.
Urbanization creates not only new challenges for business environment, but also
competitiveness possibilities. In Global North the renewed interest in agriculture and
food production is identified as one of the nowadays social trends. Considering the
possibilities of technological development and other social trends as minimalist and
non-waste lifestyle, urban agriculture provides new deployment of business
competitiveness, based on social trends and costumer needs. The most challenging
factor in the competitiveness of urban agriculture is that the majority of threats and
opportunities are based on the same aspects – resource scarcity, short food chains
and fresh, organic food production.